I have a confession. I love to eat junk food. :( I try not to do it all the time but every other day or so when I come home from work and there's nothing [healthy] to eat yet, I reach for the junk food cabinet...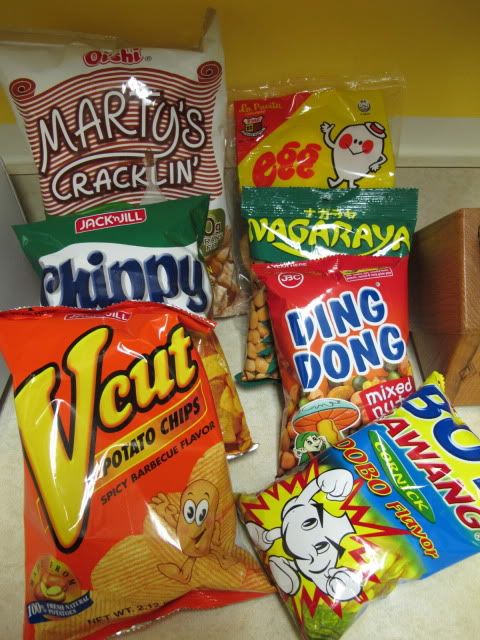 I'm not much of a sweet tooth, I mostly crave savory or salty/spicy/vinegary (is that a word?). My husband can't relate to this, he doesn't eat chips of any kind. Out of all that assortment he would probably only touch the egg cracklets (top right). Oh well, more for me. I almost always do get a reminder from him to drink a lot of water right after imbibing in junk food to flush all those MSG out of my system. Good husband.
Speaking of food again, my husband takes breakfast and lunch to work and uses our leftover containers which I hate to wash when he comes home because he brings a lot of them. We are using
these containers from Rubbermaid
to store our leftovers. So I got him two kits from
Fit & Fresh
, one for breakfast and one for lunch. That way I don't have to wash so many things...
The Nalgene water bottles came in a two-pack and together they can hold 1.5 L of water, enough for his work day. He used to bring my pink 1L Nalgene and an
alex
water bottle. I kinda felt sorry for him coz they weren't "manly" enough. Hehe...
Passed by the drugstore also yesterday to pick up some dishwashing liquid and something for me :) I'm liking this flavor of Carmex and love that it's not in a squeezable tube, which gets kinda goopy and messy. The lip balm sticks are great, less hassle and more hygienic. Also, my nails are a little yellow because I've been wearing a lot of nail polish lately so I hope this nail whitener from Essie works. I was trying to find a product called Yellow Out but I couldn't find it. I forgot what brand it is, maybe Sally Hansen. Oh well, this will have to do for now.
I have to clean and organize our medicine cabinet later, we have been through that thing like a tornado recently and it's a mess. There might be some meds that need to be thrown out too...